Here's another sample of what's not safe to open.
Again, the clues are clear, if you're careful before you click: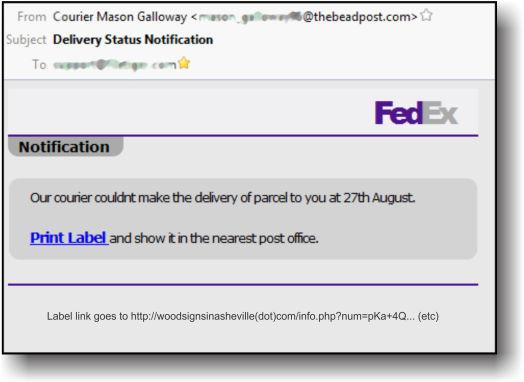 There are punctuation and grammar errors in the message.
The link that you'll see when floating the mouse over that 'Print Label' link doesn't match the 'from' domain, and isn't Fedex.com.
European date format used by a US-based company.
The logo is a bad jagged paste, and is missing the circle-R symbol for 'registered trademark'.
FedEx has no pickup service at their competitor, the "nearest" US Post Office.
Now, that's already enough information to make me delete the email, but I'll look a little deeper:
I downloaded the "label" to look–it was "Shipping_Label_US_Westminster.zip" and it held one file, "Shipping_Label_US_Westminster.exe".
The antivirus I'm running didn't object to either file; it probably can't detect today's variation yet.
I looked inside that file with an extraction program, and found a .rsrc folder, and files .text, .rdata, .data. Inside the folder there were two .ico files, basically desktop icons.
That's enough to tell me that it appears to be a script to install software. It's clearly not a label–that would be a PDF or a JPG image.
IMO, the most-likely payload would be a rogue/fake security program, either scare-ware or blackmail-ware. The message itself isn't infectious, just don't click that link.

Jerry Stern is webmaster at PC410.com and Startupware.com.